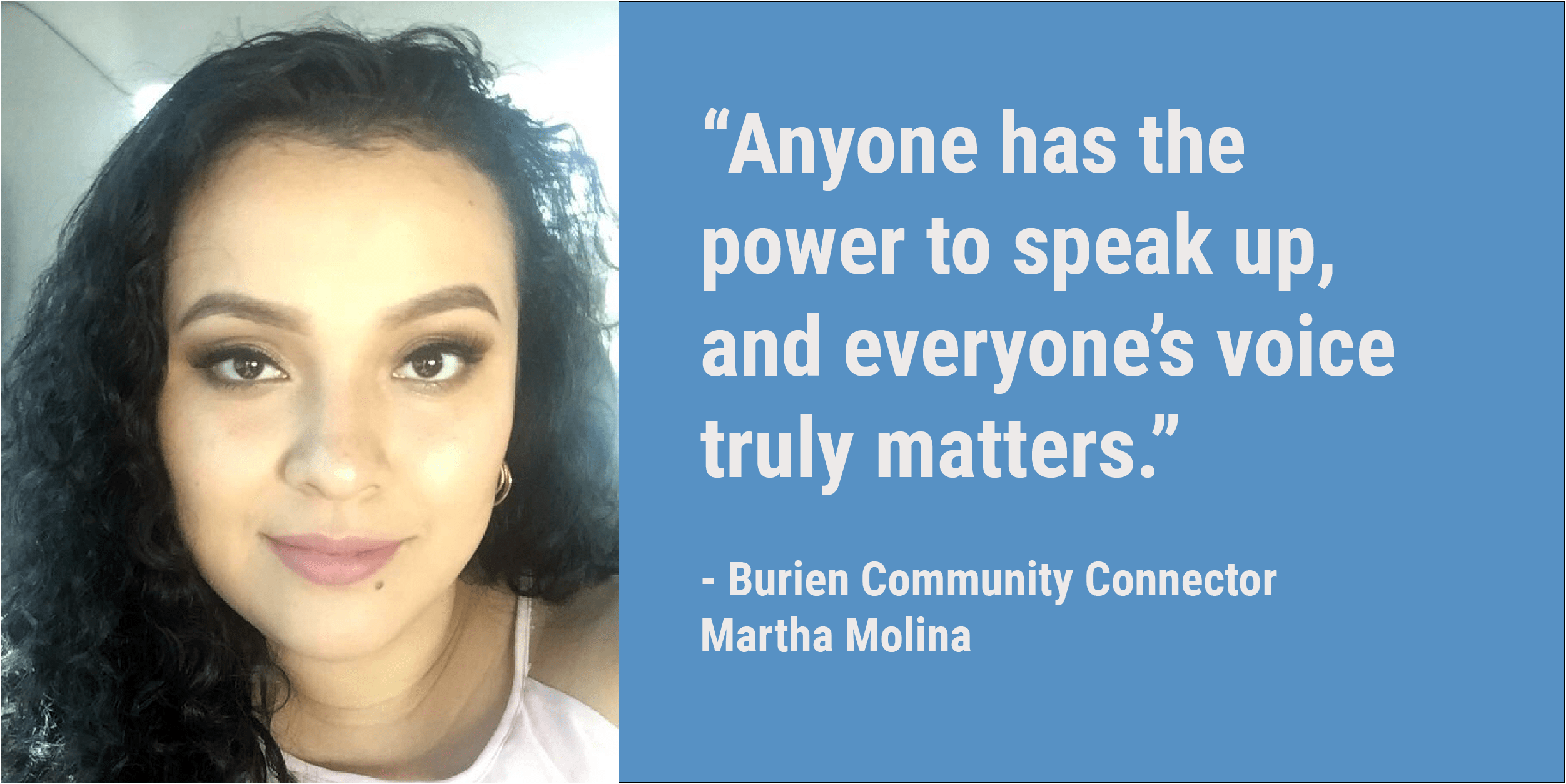 Global to Local's leadership and community mobilization initiatives strive to improve health by building community power. As part of this effort, our Community Connectors programs recruit and support individuals who serve as liaisons between their diverse communities and the cities of Tukwila and Burien.
Earlier this year, our website featured Tukwila Connector Rinny Tun. Now we are excited to spotlight Burien Connector Martha Molina. Read on for our Q&A with this community leader!
How did you learn about the Community Connectors program? Why did you decide to join?
My friend told me about it. I thought it was a great opportunity for me to learn more about local government and how to connect the community with the city.
What are some of the most urgent or greatest needs you see in your community?
The biggest needs I see are: getting more families involved in community events and meetings; regular child care for families who want to attend meetings but can't because of children; and more languages offered for interpretation in meetings/events.  
What activities have you done as a Connector?
I took a City 101 training, helped review and give out surveys, and learned about city resources and who to call for help. I attended a City of Burien budget meeting, and have done some outreach work by passing out fliers and by reaching out to friends and family through social media to share events and information. I also attended a King County Council meeting in Seattle, which I never had done, so that was exciting and different.
What are some of the most important things you've learned as a Connector?
The biggest thing I have learned is how powerful word of mouth can be. The Latinx community, especially older folks who don't use social media as regularly, rely heavily on word of mouth from their close friends and family. I can't begin to say how many times I've been told that someone learned of an event through a mom from school or through a next-door neighbor. Another important thing I have learned is that anyone has the power to speak up, and everyone's voice truly matters, no matter how small or unimportant you feel.
What's something you've accomplished as a Connector that you feel proud of?
I know there is still a lot for me to learn, but I am proud that I have introduced the idea of attending events and learning about city politics to some of my friends and family, and hope I have made them consider attending more often — because if I can, they can, too.
What is your hope for your community?
I hope for a community that welcomes diversity and accepts differences. A community in which neighbors know each other and reach out to each other. They participate in events that impact them, and are able to understand the content in their language if it's not English. An inclusive community that works together and listens to the needs of one another. Anyone feels safe to be a leader and has the support to get there.
Is there anything else you'd like to share?
I'm so grateful for the support I have been given during my participation in the program. I know I can always reach out for questions or any other support, and don't feel ashamed for asking too many questions. I know I am appreciated, and that feels so great.
Learn more about our Community Connectors programs
Contact G2L Deputy Director A.J. McClure: aj@globaltolocal.org or (206) 379-6051.