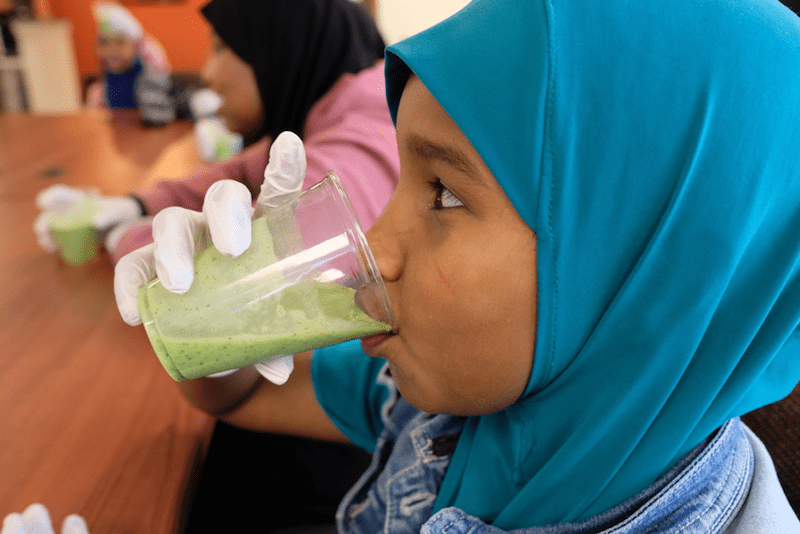 Gali eyed a green beverage with suspicion on a recent Friday afternoon. She'd never heard of putting spinach in a smoothie before, but she took a chance, tried a sip, and was delighted to discover a new favorite drink.
Gali and her friends had concocted the smoothie at a summer class for youth held at Global to Local. Young members of the local Somali community who joined the four-class series learned about nutrition, enjoyed physical activities, and developed their leadership skills.
Global to Local offered the summer program in partnership with Food $ense to help local youth develop healthy habits. Educating young people about their health not only sets them up to make good choices for themselves, but also to positively influence their families.
Community Health Worker (CHW) Abdi Hussein coordinated the class, one of many programs that Global to Local CHWs offer to help build a healthier community here in the SeaTac/Tukwila area. CHW activities range from organizing exercise and nutrition classes, to addressing barriers that prevent residents from visiting their primary care doctors.
Our CHW work is inspired by the many global health programs that train trusted community members as health workers who operate outside of clinics to provide education, referrals, and social support for health behaviors. It's just one of four initiatives that G2L has developed to improve community health.
Continued engagement
After school starts back up, Abdi will continue to keep in touch with the students and their families, who are his neighbors. Two of the students' parents are joining a nutrition class that Abdi's organizing in September. And he is working to connect the families with their primary care doctors. Through G2L's partnership with HealthPoint, Abdi and other CHWs help families make medical appointments, communicate with clinicians, and follow through with prescriptions and doctor recommendations.
Global to Local is also engaging young people through our Green Cities partnership with Forterra. We're inviting youth to give input about where trees should be added in their community, and then get hands-on planting trees!
By the way, we suspect there are more green smoothies in Gali's future. A few days after that summer class, she called Abdi to tell him she'd made a batch for her whole family.