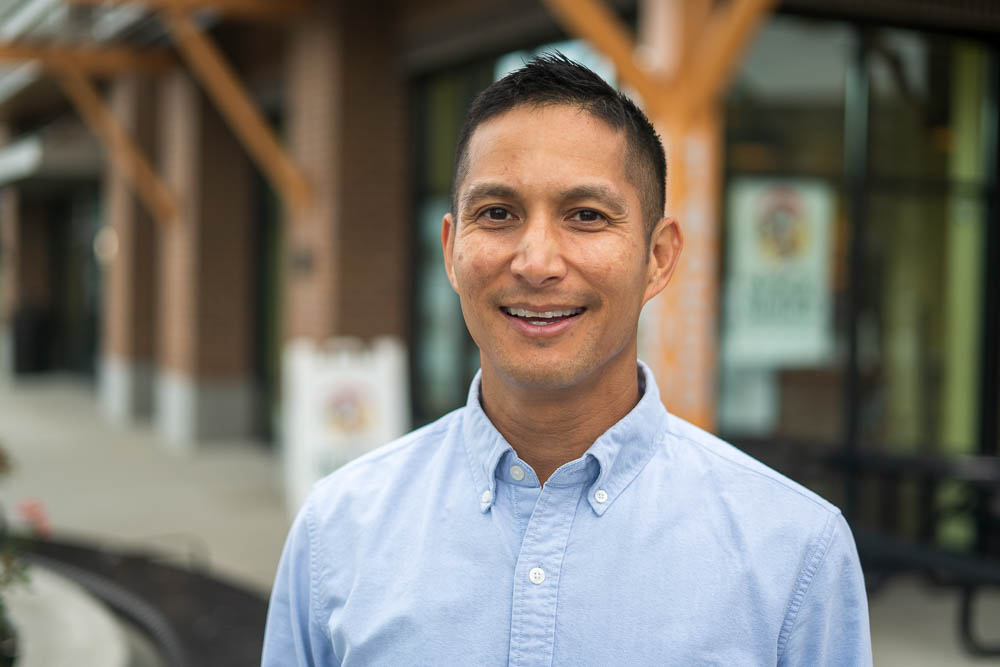 A.J. McClure will step into the Executive Director role at Global to Local (G2L) on Dec. 1. Over the past three years, first as G2L's Director of Programs and now as G2L's Deputy Director, A.J. has overseen our local efforts to serve our most vulnerable communities through our Community Health Worker and Connection Desk programs. He manages the SeaTac-Tukwila Community Coalition, which addresses health and social inequities by expanding food security, increasing community leadership opportunities, and reducing barriers to high-wage employment. As Co-Chair of the Food Innovation Network Steering Committee, A.J. provides strategic leadership for the program, which launched the Spice Bridge food hall and commercial kitchen last month.

Having worked in South King County for over 10 years and calling it home for over 12 years, A.J. brings a personal connection to the work. As a son of Filipino immigrants, he remembers his dad being told an apartment was available over the phone, but then showing up in person only to be told it was taken. He also remembers his mom telling him about the 12-hour days she and her brothers worked in the cannery to help their mom care for their family of five. A.J. understands that many people in the communities G2L serves share similar experiences, and this fuels his commitment to work tirelessly in pursuit of health and racial equity.

G2L was established in 2010 to explore how the application of global health strategies could reduce health disparities and improve health in the U.S. Our founders focused the organization's efforts in South King County, and from the outset, implemented a key global health strategy—listening to communities about their needs and co-designing solutions together. Using this approach, G2L has developed a variety of successful programs that have increased opportunities for South King County communities to thrive.

Since G2L was founded, its primary focus has evolved from implementation of global health strategies to meeting those needs identified by the community regardless of the source of the ideas. G2L's board modified our mission statement earlier this year to reflect this evolution. Our current leader, Dr. Jonathan Sugarman, helped lead the process and, recognizing the importance of organizational leadership being vested with representatives of G2L's community, last February he informed the board of his decision to step down by the end of the year.

G2L Board Chair Lisa Cohen made the announcement in an email to our subscribers, writing:
I want to take this opportunity to thank Jonathan for his selfless leadership during the past two years. We hired him to conduct an unflinching analysis of G2L's best course moving forward. He has always put the organization and the staff first. He has earned our respect and admiration. Jonathan will remain at Global to Local as a Senior Advisor until February 2021 to complete some specific projects.

In addition to our South King County work, Global to Local is nationally recognized as a leader in identifying successful health interventions from around the world, and adapting these solutions for U.S. communities. We will be exploring continuation of this element of our work with the Washington Global Health Alliance, one of Global to Local's founding organizations.

In this tumultuous time when so much seems uncertain, I am grateful so many people are undaunted by the challenges we face. A.J., Jonathan, the Global to Local team and board, and our valued partners spend each day dedicated to this critical work. Because of their commitment, I am optimistic about the future for Global to Local—and our community.
Stay connected with G2L
Sign up for our email newsletter to receive updates on Global to Local's work.