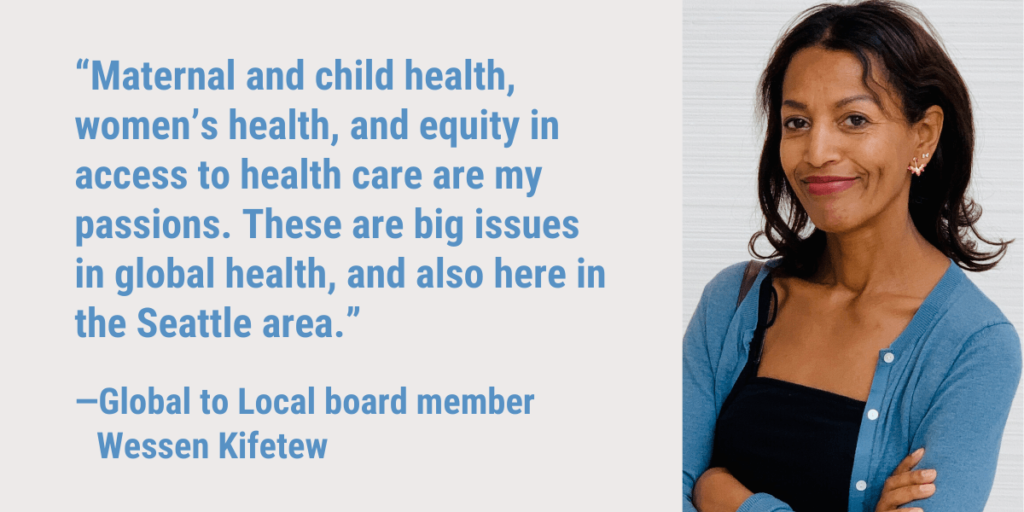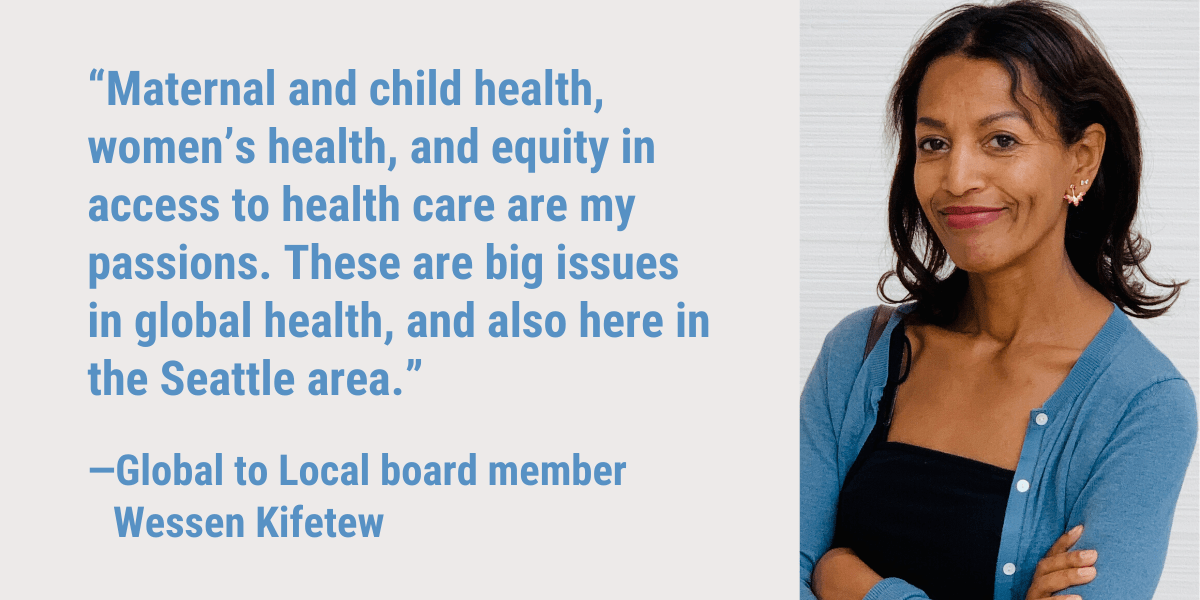 Wessen Kifetew, who joined Global to Local's board of directors in the fall, has more than 15 years of experience in global health and community service.
"Maternal and child health, women's health, and equity in access to health care are my passions," Wessen said. "These are big issues in global health, and also here in the Seattle area."
Originally from Ethiopia, Wessen earned a Master's degree in Global Health from the University of Emory, Atlanta, and a Graduate Certificate in Maternal and Child Health (MCH) Leadership from University of North Carolina, Gillings School of Public Health. Her academic research focused on the impact of HIV/AIDS stigma on prevention of mother-to-child transmission, and she went on to work in global health operations management with U.S. government and international organizations.
When Wessen moved to the Northwest more than a decade ago, she set out to understand health disparities and social justice as influential factors on policy, decision making, and on health outcomes of vulnerable populations and communities in greater Seattle.
"I started volunteering, doing a lot of pro bono consulting work, and actively trying to get a good handle on what equity means, and why do we have these persisting health issues within communities," Wessen said. In addition to providing pro bono consulting services to a variety of community-based organizations, Wessen is a member of the Washington State Coalition African Leaders (WASCAL), and also serves on the board of African American Reach & Teach Health, an organization responding to HIV/AIDS and other major health issues affecting African Americans and people of African descent.
Wessen sees joining Global to Local's board as an opportunity to support implementation of a strategy that has always interested her—adapting global health learnings to improve health in U.S. communities. More importantly, Wessen sees her role as a board member to bring the voices of the broader global community to the table. 
"Working in global health, I've always thought, Why can't we bring the experiences and the best practices to address some of the local health issues?" Wessen said. "There are opportunities for the public health community here to adapt best practices to address inequities in health and healthcare access, education, and in other sectors based on race and place. And I think Global to Local is in a position to play a big role in addressing these issues across diverse communities."
Wessen looks forward to supporting Global to Local's growth beyond SeaTac and Tukwila.
"I think we can help to address inequities and disparities in not just greater Seattle, but also in the broader international communities, similar communities who could benefit from the practices that we bring in," she said.