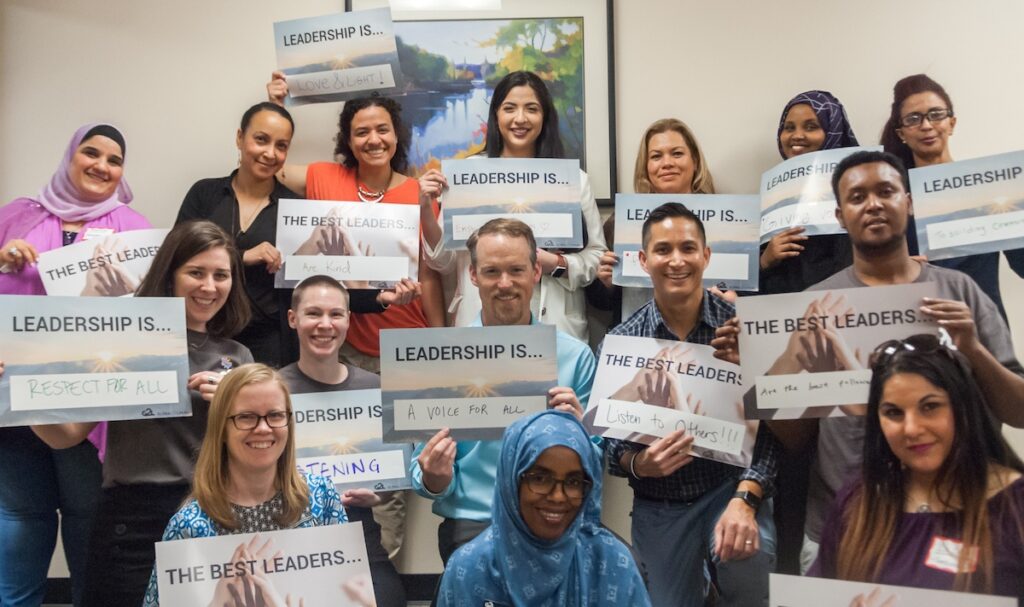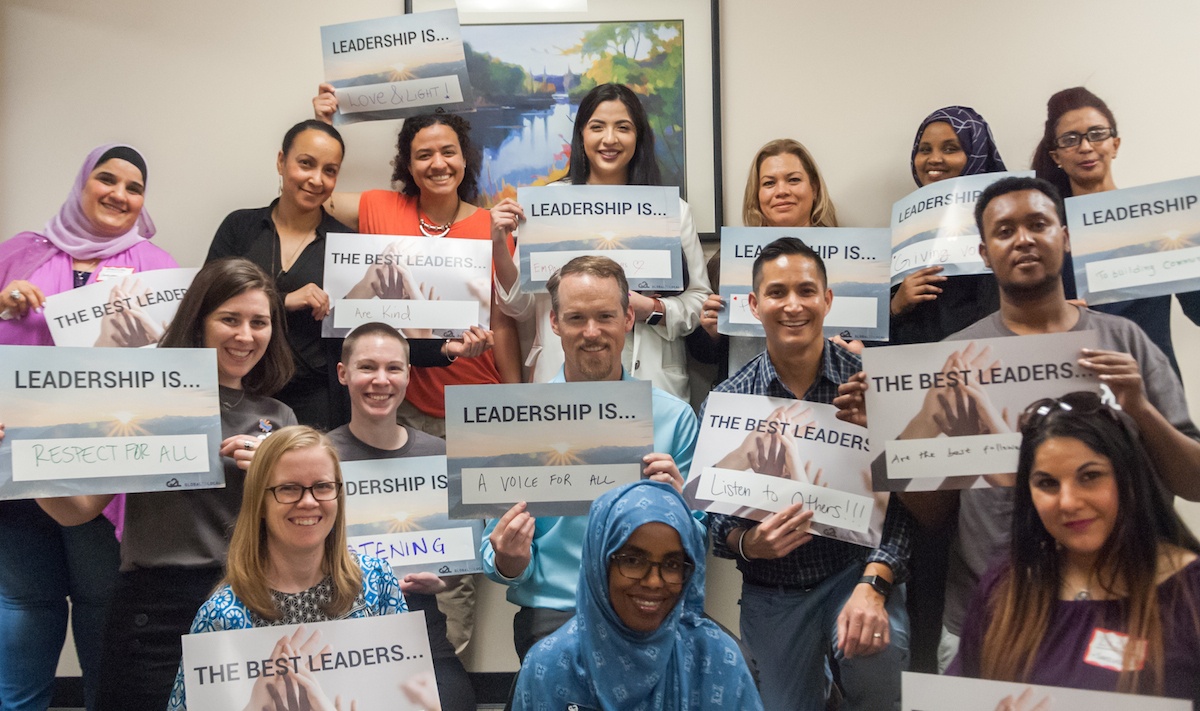 G2L staff share their ideas about leadership; Executive Director Adam Taylor's sign reads, "Leadership is a voice for all." Having spent eight years helping to build leadership in South King County and at G2L, Adam is moving on to new adventures. Image credit: Ken Tran.
After leading G2L for eight years, Founding Executive Director Adam Taylor will step down from his position on June 29 to begin a yearlong travel adventure with his family. In his announcement, Adam wrote, "Global to Local has never been stronger, which is why I have decided this is the right time for this transition. Our staff of over 20 is exceptional, our funding is solid, our partnerships are deep, and we are seeing the impact of our work every day."
G2L Board Chair Dan Dixon highlighted some of Adam's accomplishments in a message to our newsletter subscribers:
"A few examples of Adam and the G2L team's work include development of a nationally recognized diabetes management program that utilizes highly efficient and cost-effective health promoters and a smart phone app that dramatically improves the wellness of users with diabetes. This program is now being launched in the Swedish System. Adam has also worked tirelessly with dozens of community partners and with support from the Seattle Foundation and King County to develop a Food Innovation Network that is launching new food businesses and improving access to healthy foods.

"Adam has engaged corporate and government partners along with universities and community groups to pursue distinctive avenues of innovation, from economic literacy and job training and placement to primary health care. One of the signature achievements of Adam's tenure, in partnership with HealthPoint, was development of the Connection Desk that enabled thousands of individuals to sign up for the Affordable Care Act and other important services ranging from housing to employment and much more."
Identifying G2L's Next Leader
G2L's board has already launched a national search for our next executive director, with the goal of having someone in place by the end of June. Details about the position are posted here; we hope you will share this opportunity with your networks.
We will keep you updated through our email newsletter; if you aren't already subscribed, we invite you to sign up now.